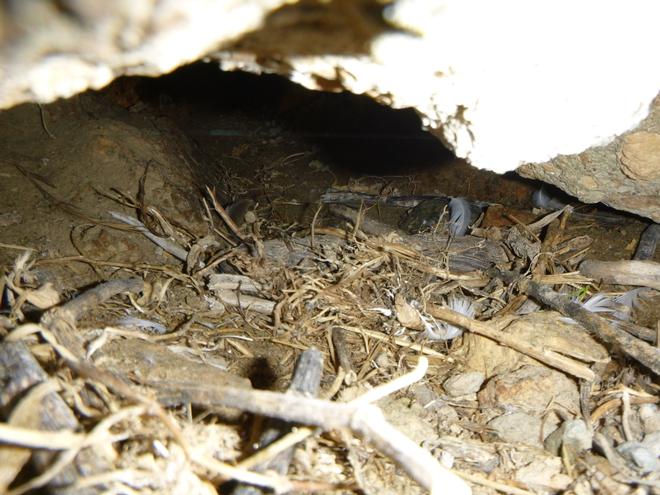 14 October 2022
An empty nest. This is what ISPRA researchers found in front of them on their last monitoring visit to the colonies of Scopoli's shearwater in Palmarola. And the scene was repeated. Unfortunately, all the nests included in this year's monitoring campaign were found like this: empty. Without the chick. Evidently preyed upon by rats. In June, hatching adults had been seen in those same cavities. So what is called reproductive success this year was nil. To put it in numbers: 0%.
For once we give bad news, but it is further proof, if any were still needed, of how important the eradication of rats from the islands is. Always remembering that rats would not occur there naturally but have been brought there by man. Unfortunately, the shearwaters are just one of many examples of animals that are severely damaged by the presence of rats on the islands: the entire ecosystem suffers heavy impacts, which is why interventions such as this are planned and implemented. The outcome of which, as in this case, is not always what was hoped for.
At the start of the Life PonDerat project, the reproductive success rate was 11 %, i.e. only one in ten pairs of shearwaters succeeded in bringing their chicks to the hatching stage. During the course of the project, while action was taken to try to eliminate the rats (coming within a step of the target, and thus with their population reduced to a minimum) the reproductive success of the shearwaters had increased to over 90 %. Unfortunately, we did not succeed in this feat, which was successful on many other islands, such as Zannone and, again under Life PonDerat, on Ventotene, and now this terrible menace has returned to the shearwaters of Palmarola.
What we can promise ourselves, also in the light of this bad news, is to try again. A new project has already been presented which, if financed, will allow us to return to Palmarola and continue working to protect these magnificent sea birds and the island as a whole.