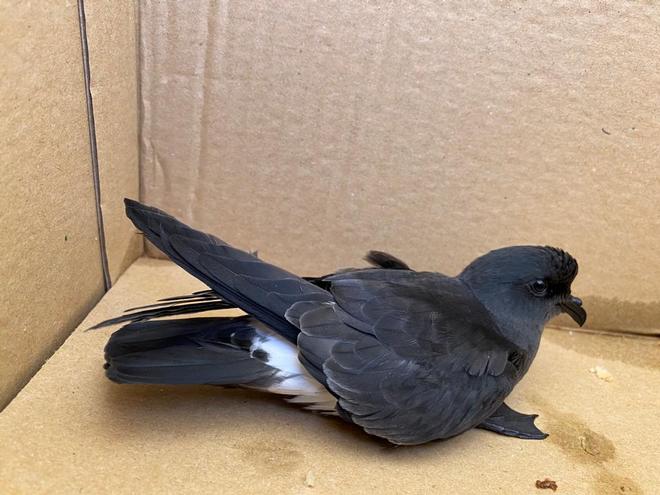 16 September 2021
Here is a beautiful specimen of storm petrel recovered on a Tirrenia ferry from Sardinia and docked in Civitavecchia. Sergio, a park ranger of the Lazio Region (and in the PonDerat team) and in this case also a relay for the LIPU took charge of it. Given the difficulty of the subject to take flight it was decided to take it to the Center Rescue Wildlife Lipu in Rome. He can receive the care of the case with the hope of releasing him as soon as possible.
In the Mediterranean there is an endemic subspecies to the storm petrel (the scientific name is Hydrobates pelagicus melitensis). This species nests on the most inaccessible cliffs and in deep caverns. The difficulties encountered in the study of this species make it one of the least known. Some individuals are occasionally seen in the Ponziane archipelago, where a true breeding population probably became extinct because of the presence of rats. The eradication of these predators arrived on the islands due to the action of man could increase the likelihood of a new colonization of the islands by this mysterious sea bird.
Going back to the protagonist of this story, it was a young storm petrel born this year. We could say he was overweight and a little lazy. Apart the jokes, often the young in the nest grow up to become heavier than the adults. At this point the parents cease to feed them so that the young people caught by hunger are almost forced to take flight. The experts of ISPRA and Lipu (Alessia Colle and Francesca Manzia)have therefore decided to take it on the high seas and free it operation that has been successful thanks to the collaboration of the Port Authority of Civitavecchia. A nice ending for a good example of collaboration between many people with a single goal. To give freedom to a beautiful (and rare) Storm petrel.