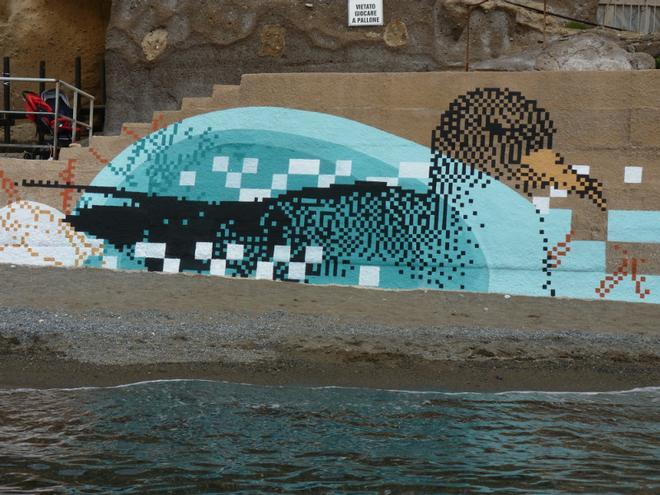 29 May 2019
Life PonDerat at "Blue Flow". We had this idea a couple of years ago during our first surveys in Ventotene, when we first admired the murals along the port and knew the organizers and their passion.
Blueflow is a festival of urban and contemporary art that aims at requalifying poorly valued areas on the island through murals, in an innovative and respectful way. Supporting the festival and promoting a piece of art dedicated to PonDerat seemed a good way to communicate and disseminate the project on the island. "Our" mural has been realized by Arcadio Pinto, alias Krayon, who is an excellent artist and a great person. As shown in the pictures, his work is highly creative yet pertinent to our project, which is aimed at safeguarding the Scopoli's shearwater portrayed in the mural. Everyone can appreciate the beauty of Krayon's artwork. Hopefully, tourists will be curious and ask about the project and its benefits for Ventotene, its people and visitors.
It was indeed a great experience for the PonDerat staff, which we shared with the Blue Flow crew and all artists, whose artworks are shown in some of the pictures: Rame 13, Laucky, Gojo.
Many thanks to Marta Di Meglio (attentive event organizer) and Antonio Romano (Director of the State Nature Reserve Isole di Ventotene e Santo Stefano) for making this happen.